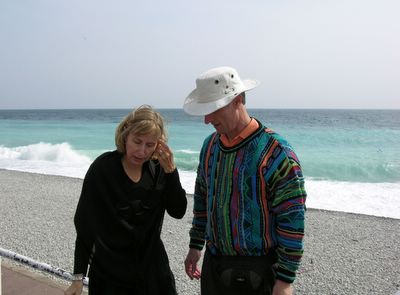 Every time I see this photo in my Picassa file I like it more, so today it makes its way to the blog, breaking my usual hard-and-fast rule that a photo must be taken the day it is posted. Joyce Heard's husband Jean-Marie took it in Nice on April 2nd, just after we had arrived in France. This seems like a decade ago. The couple in the photo is now one week away from completing two months of French immersion at L'Institut de Français.
I have been working with my professor Jean on a French translation of a poem of mine that will appear in the fall edition of DIVIDE, the literary magazine of the University of Colorado at Boulder. I e-mailed the translation to the editor yesterday, and she replied that it looks "lovely" and that she is going to try to find a place for it alongside my original. She also requested a photo of Jean, which is going to be a challenge. Even though he is an animated, gifted teacher in the classroom, he is at heart a lone wolf who dreams of buying an island and living on it alone with his books and his writing. He does not enjoy having his photo taken. But I will give it a try on Monday. Ginger Knowlton, the editor, asked for a photo showing Jean and me together, which would be a great memento of my time at the Institut if Jean will suffer through shooting.
Darlene and I want to speak more French when we are away from school, so we made a plan yesterday of when we can speak English. Not for another hour and a half, I schedule. So I can't ask her for news for the blog. I'll say it's been a challenging week for her but that she's pressing ahead. She is still dogged by a cough and sore throat, my version of which seems less severe. But the sun has arrived on the Cote d'Azur, so today's plan definitely includes a rendezvous at the beach this afternoon for some healing rays.


Send to Kindle