Cape Town is proud of its stunning natural wonder, Table Mountain, and everywhere you look when you take the rotating cable car to the top, you find amazing views — AND requests to help place the site in the final round of competition for the New7Wonders of Nature contest.  I have gone through the process myself, and I have to confess it requires more clicks than I thought I had time for. You have to create a username and password, tell them your birthday and e-mail, then fetch the confirmation email and click on the link.  It looks like a legitimate site, though, and if the folks at Table Mountain are promoting it, I'm pretty sure it's okay, and they appear to believe it will help business if they succeed in getting enough votes to make the final seven. They're up against some stiff competition, including the Amazon, the Grand Canyon, and Victoria Falls.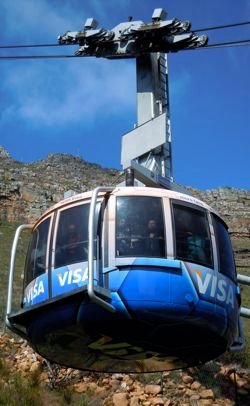 The reason I was willing cast a web vote for
Table Mountain is that I really loved my cable-car ride to the top of this iconic flat rock, which soars 3,600 feet above the city and the ocean. The car itself is round and rotates a full 360 degrees during the speedy trip, nearly straight up.  You get personal with dramatic rock faces, and beyond them, increasingly breathtaking views of the ocean and city.  At the top, where there are lots of other visitors — the cable cars can deliver 800 people per hour to the summit — you'll find the site broken up into clever little stone sitting areas and walkways, so it doesn't feel like a mob scene.
I had time to enjoy a coffee at the cafe, sharing an outdoor table with a mother and daughter from London. Daughter was skipping the view and instead labored over a mathematics text book, because their vacation was nearing an end. The Mum kindly took my photo, so I could remember one of the most inspiring journaling settings I've ever taken advantage of.
From the streets of Cape Town, you can nearly always see Table Mountain. Its drama comes from the fact that the surrounding area is fairly flat, except for the towering flat-topped presence.  Denver's mountains are bigger and more massive by far, but they are some distance from downtown.  Table Mountain, if it were in Denver, would be located as close as the old Stapleton Airport, and it would be a wonder indeed.
One of the first things I looked for from Table Mountain was Robben Island, where Nelson Mandela served 18 of his 27 years in prison.  It turns out that Mandela and other prisoners were often doing just the reverse, as described in this quote from him on the Table Mountain website: "During the many years of incarceration on Robben Island, we often looked across Table Mountain at its magnificent silhouette…To us on Robben Island, Table Mountain was a beacon of hope. It represented the mainland to which we knew we would one day return."
As it happened, Darlene and I took the ferry to Robben Island this afternoon for a powerful tour of the prison, now abandoned except for throngs of visitors to the site.  I won't have time tonight to do the trip justice, so I'll work on it for posting sometime during the next day or two.

Send to Kindle