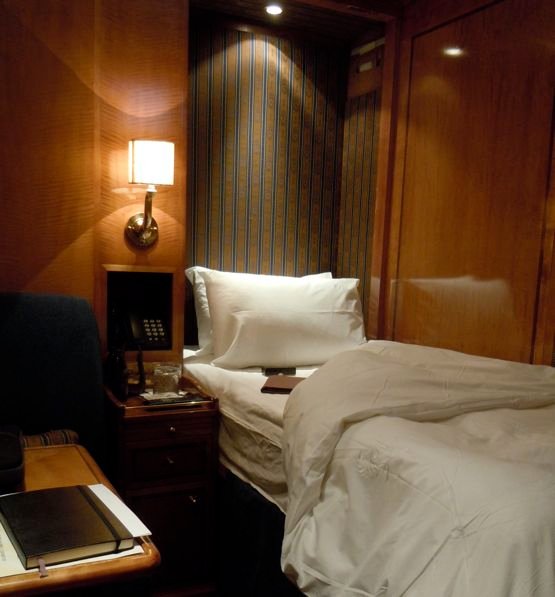 I will in all likelihood be dozing my way to the Blue Train's destination today.  This is ironic, because one of my most reliable methods for falling asleep in a normal bed is to imagine a train suite nearly identical to this one on the Blue Train. I settle into a vision of paneled walls, a gently swaying car, muffled sound of steel wheels on rails…  and soon I am asleep.
But last night, after a fine evening of conversation in the Lounge Car before my dinner of braised springbok shank on herbed parmesan polenta gallette with grilled pears, followed by a Havana cigar and ginger ale in the Club Car, I was too keyed up for an early bedtime. Eventually, at 11:30 or so, I crawled under the white comforter in the single bed which Brighton had set up while I as at dinner.
I soon realized I had an existential problem – what scene would I envision in order to fall asleep when I was actually in my fantasy train suite ?  My bed back in Cambridge or Denver?  A tent in the woods?  A cabin on the Queen Mary II?  Perhaps if I had simply imagined that I was in the room that I was in, I could have broken through to enlightenment.  Instead, I picked up my Kindle for more delightful stories of Bostwana in The No. 1 Ladies' Detective Agency by Alexander McCall Smith, and eventually I fell asleep.
My Blue Train bed is the most comfortable bed I've ever slept in on a train, but it's still a bed on a train.  That means it's on the hard side — no box spring, no Sleep Number system, just a thick mattress on a wide board.  Also, that imagined rock-a-bye swaying of the fantasy train is actually more like lurching and occasional banging of the cars in the real world. I wish I'd had room in my luggage to bring along my  Zeo sleep monitor, to see what the effect of all that motion would have had on the night's readout of deep, rapid-eye, and normal sleep modes.
I didn't set an alarm, and I raised the night curtain so I would be able to see light in the sky in the morning.  That meant a natural wakeup call at about 4:45 a.m., when the first pale trace of dawn appeared in my view from the bed. I confess that after my morning devotions, my first thought was to wonder if the Vodacom network was going to enable me to catch up on my alleged liveblogging of the train ride.  The answer to that question was no, so I'm drafting posts in Textedit for uploading whenever I'm back online.  We have just stopped in Klerksdorp, and the TV monitor map shows streets and highways, instead of blank spaces. That's a good sign.  I called 252 on the phone to ask Brighton for coffee, which has arrived with a small white pitcher of warm milk and a bowl of sugar.  I asked him to leave the bed set up, in case I calm down enough for a power nap sometime between now and arrival early this afternoon.
Sometimes it seems as if the real driver in my life is to set myself up in scenes which convince me that I am a real writer.  I can easily create a slideshow in my mind of all the places that have nearly done the trick – a sidewalk cafe in Paris, any number of Starbucks stores, a rock by the side of a Wyoming reservoir, the cabin of a Windjammer ship in the Caribbean, even my studies in Denver or Cambridge, when I have the music and coffee just right. Joining that parade of writerly scenes is last night's hour in the Club Car, where the Blue Train offers complimentary Havana cigars after 8 p.m.  As usual, the car was nearly empty, and I was the only one partaking of the cigars.
I set up my journal and Kindle on one of the leather-topped card tables and wrote to my heart's content, glancing once in a while at the reflection in the dark window.  That guy looked like a writer, so if he actually keeps writing, maybe he'll get there.  Provided he gets enough sleep…

Send to Kindle