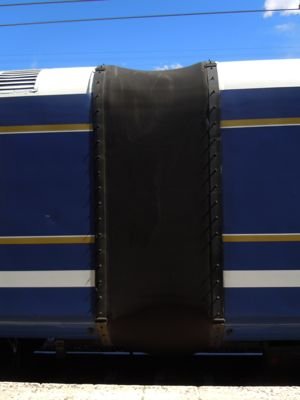 This one is for fellow train nerds.
The photo at left shows the covering between the cars on the Blue Train, which makes it possible for there to be no breaks in the hallways of the train inside.
It's a rubbery kind of fabric, fastened securely with lots of rivets. There is enough flexibility to handle curves and still keep the weather and most of the track sound out.
I'm waiting at the Johannesburg airport for my flight to Gaborone, Botswana.
The process for getting a refund for the Value Added Taxes we paid on purchased items in South Africa wasn't too difficult.  I showed my receipts to a woman at a kiosk outside of security, and she asked to see just a couple of them — a dress shirt Darlene bought me for the train and my Vodaphone wireless broadband gizmo. On the other side of security, there were clerks processing the receipts.  I received a check for about 200 rand and stepped next door to a currency exchange booth to get it in cash. We will have a couple more visits to South Africa before departing for home in a couple of weeks, so I'm glad to have some rand in my pocket for whatever.

Send to Kindle