We're settling in to the rhythms of Botswana, thanks to our gracious hosts, Jim and Linda.  They live in  Phakalane, a suburb of the capital city, Gaborone.  Jim does project management consulting for mines in the area, and they've been living in Botswana for about two years.  Darlene and Linda are quilting buddies from Denver and have spent many hours connected by Skype between Cambridge, Mass., and Phakalane, sharing news of quilts and all else.
Phakalane is a growing area of residences and businesses, but it has just a single outlet to the main road to Gaborone and the rest of the country.  Jim last night tipped me off to the scene I'd see if I walked to the traffic circle this morning, and sure enough, at about 7 a.m. I witnessed a crush of vehicles worthy of the Alewife Brook Parkway bringing commuters in Route 2 to Boston.
But in Botswana there appears to be more creativity in navigating through the bottleneck. Locals scoot down a dirt road for a ways and zip back onto the highway whenever they have a chance. Or they take a shortcut through a BP station.  The cars coming round the circle sometimes create their own lanes, especially the taxis.  Jim heads to his office at around 6 a.m. to avoid the crush.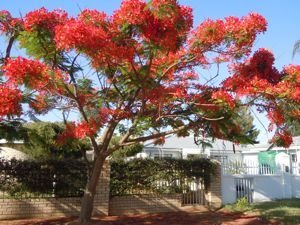 Back on the quiet streets of their neighborhood, I did a brisk walk and admired a stunning red tree, which Linda later told me is a Flamboyant tree.  I also met a few local dogs not on leashes, but strode past them with confidence that was rewarded with calm reactions on their part. One house at the end of a cul de sac featured two deep-voiced dogs worthy of the Hound of the Baskervilles, but they were safely behind the locked gate.
Security in the neighborhood is understated but effective.  Many of the homes have rows of electric wire on top of the concrete walls, but the wires are thin, nearly decorative. As if to underline the fact that security issues know no boundaries, I was woken up this morning by a call on my iPhone from the alarm company in Cambridge, saying our burglar alarm was going off, at about 11:30 p.m. Eastern time.  The alarm company call center guy asked if I was going to be able to meet the police for the perimeter check. "No, I'm in Africa," I explained.  But thanks to very expensive roaming, my phone connected me to the incident as if it had happened just down the street in Phakalane.

Send to Kindle