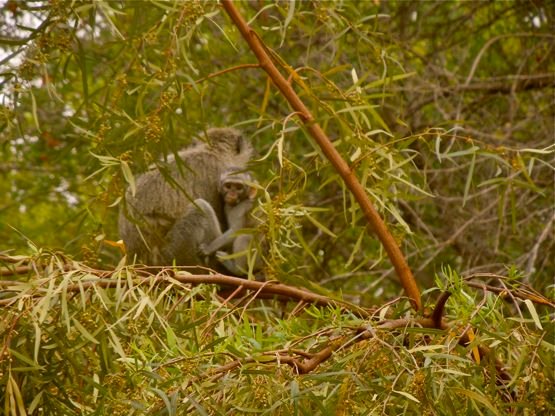 You might think we had to go on another safari into a game reserve to find this adorable baby vervet monkey and its mother, sitting in a tree.  Actually, no.  We drove about 10 minutes from Jim and Linda's home in Phakalane to the Grand Palm Hotel, which figures in the murder mystery we're all reading, A Carrion Death by Michael Stanley.  The hotel is also know for its buffet lunch, and it was my treat for Linda, Darlene and Deb on our last full day in Botswana before tomorrow's drive to the Tau Game Lodge just over the border in South Africa.
The buffet was immense and tasty, but we had to queue up amidst a big crowd of conference goers also headed for the line. I asked a woman next to me at the desserts what the topic was, and she said it was the electromagnetic health risks of cell phones.  "So are they safe?" I asked as I reached for a scoop of malva pudding. "So far," she said in an accent I couldn't place. "We only have 10 years of data. We don't know what the effect of 20 years of cell phone use will be."
After lunch, we strolled out to the lush lawn of the hotel, where there was a huge peacock and at least a dozen of the monkeys.  We've been coached to hold on to our things in the presence of monkeys, but these guys seemed on the shy side, skittering to the other side of the tree when I approached for photos, and then running across the lawn to a deeper woods.  The baby was tiny, and when Mom finally took him across the lawn out of sight, he rode under her belly, holding on tight.
Darlene is partial to monkeys. "I could have watched them all day," she says. "I have always liked monkeys, I don't know why."  This was the best view of them we've had so far, just a few steps from a five-star buffet.

Send to Kindle