A week ago, I spent a lot of my time at the Art Basel Miami Beach show hanging out with this painting by Morris Louis (1912-1962). It was on display at the booth of Ameringer | McEnery | Yohe, a New York gallery. It's six and a half feet square, and the asking price was $1.5 million.
The show was huge and filled with amazing art from all over the world.  I strolled around, enjoying the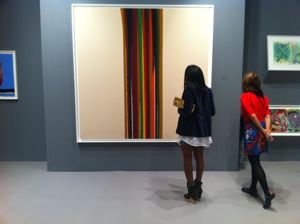 variety of creativity on display and the sense that the art market is making a comeback from the depths of the great recession.  That news had been reported in a Miami Herald story about the opening of the show that I'd read on the flight to Miami from Boston.  It was also fun to watch the art watchers.  Let's just say most of them don't buy their clothes at L. L. Bean.  They were all ages, speaking many languages, but mostly white, I noticed. None of them looked as if their feet hurt as much as mine did. I felt slightly more stylish just being there.
I found other art I liked, but I always came back to Number 11.  I still have trouble getting Morris Louis's name in the right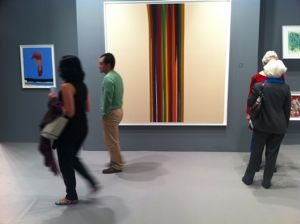 order; I posted a Twitpic photo listing him as Louis Morris. I planted the image of Morris the Cat in my mind as a way to remember it correctly.  I'm not sure why this one painting made such an impression on me.  It may have been largely a random event.  I get overwhelmed in museums and usually decide to stop somewhere for quite a while instead of ambling everywhere and taking in fleeting images of everything.  The Morris Louis was about halfway down the first aisle I explored at Art Basel, and it was displayed in a nice space. You could stand back a ways from it without bumping into something else.
I was surprised to learn that it was okay to take photos at the
art show, but my friend Kes Woodward assured me that this was the case.  Once I had a shot of the painting on its own, I switched to taking photos with people in them.  A problem was that the people often stopped in their tracks, thinking they were spoiling my view.  When I waved them on or said, "it's okay," that made them nervous.  By standing a ways away and holding my camera or iPhone just above my waist I was able to snap away without it being immediately obvious that I was taking photos. Maybe I was checking Twitter.
It would have been fun to shoot a video sequence, to see what patterns of walking and stopping and viewing emerged. No one stopped long enough to join me as a fixed element of
the space.  A guy who seemed to be with the gallery visited at length with a friend nearby and seemed to be monitoring me from the corner of his eye.  I thought about introducing myself and asking questions about the painting but decided against shifting into reporter's mode.  My pleasure was centered on simply being in the presence of Number 11 and watching others take it in.
I'm looking at an image of the painting now on my iPad screen, seeking clues. Why this one?  I suspect it's about being vertical.  The painting presents lines of color forming a bold swath dividing the canvas in thirds.  To my eye, the movement is clearly upward. At the bottom of the painting,
the colors are separated by white space, as if they are streams joining in a single river. By the top, there is no white space, just a solid swath of colors.  The yellow strip peters out before reaching the top, and slivers of blue never make it all the way up, either.  Four stripes of brown and a single green one make it from top to bottom.
At the very top, the left side of the river makes a slight bend to the left.  Will this continue past the upper edge of the frame? The right side of the river is straight from bottom to top.  But that left side is sneaking outside the lines.  Within the overall vertical there are lots of starts and stops, different mixes of color, and a sense of movement and flow. But in my view, the whole thing moves upward, and that's probably what drew me to the painting as my main focal point at Art Basel.
I'd like to think I'm in an upright phase of my life, standing tall but not alone. And trying to figure out which way is up from here.

Send to Kindle