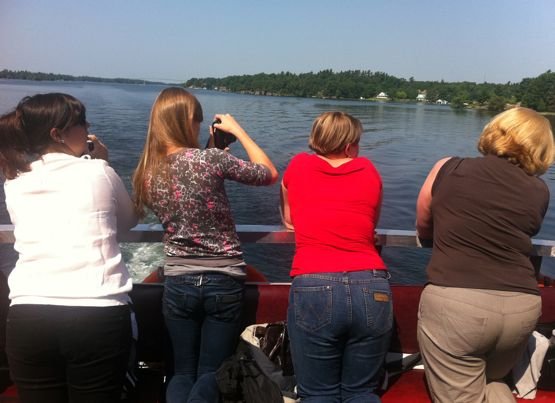 Yesterday we took a ride on the Thousand Islander IV out of Ivy Lea, Ontario. The St. Lawrence River was calm and dappled with sunlight as we picked our way among just a few of the thousand islands that give the area its name, along with a salad dressing invented there. We arrived in time for the 10 a.m. sailing, along with a busload of German tourists and many Asians, but the total passenger list left the boat nearly empty, it was so big. We snuck Claire aboard in her little black shoulder bag, without incident. It was a lovely bit of tourism amidst our more destination-oriented trek East, and we'd both like to return some day when there was more time to linger.
I had thought we might do some hanging out in Utica, New York after crossing back into the U.S. But when we reached the hotel I'd chosen yesterday afternoon, it didn't seem very compelling, and downtown Utica did not whisper "stay here" in a convincing way. So I canceled the reservation, and we headed out on the highway again, ending up here in the Albany area at the best Comfort Inn so far.  Our room even has a vaulted ceiling in addition to the full monty of accessories – fast WiFi, fridge, coffee maker, microwave, and two comfortable queen beds. We found a great Thai restaurant and brought a takeout dinner back to the room.
I'm struck by how easy our border crossings were in and out of Canada on this trip.  At each border, there was no waiting and justa few chatty questions asked as the immigration officer scanned our passports. It was well worth the detour to spend a couple of days in Canada, listening to CBC Radio, almost hoping the Canadiens CANUKS might pull off a Stanley Cup win. Now that we're back in the US of A, I'm glad the Bruins prevailed, and I'm also glad we didn't give into the temptation to drive all the way home to Cambridge amidst the celebration. It's weird how the simple act of driving across a national border changes everything.  The money, the Internet access, the look of the highway signs, the sound of the local speakers. And when you return, everything clicks back into place. So I like the going and the coming home, as far as international travel goes.
I'll blow Darlene away if I'm packed and ready to go when she returns from walking Claire. Let's do it!

Send to Kindle