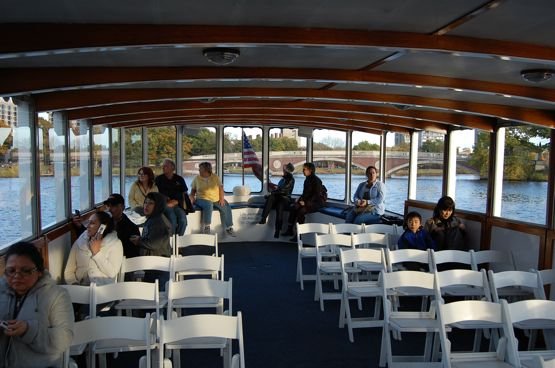 The Head of the Charles Regatta seemed like ages ago this afternoon as we took a leisurely boat ride upstream from the Galleria Mall aboard the Henry Longfellow.  It's the type of tourist thing a local would seldom enjoy, so I'm grateful to our Wyoming guest, Tom Atkinson, who found the Charles Riverboat Co. on the web and suggested we go.  What fun!  The Longfellow is a handsome wooden boat, 20 years old, and it just barely fits beneath the low bridges of the Charles.
The river was quiet and uneventful, of course, compared with the frenzy of activity a week ago when 7,000 rowers were competing during weather that offered everything except hail and lightning.  Snow? You bet – click here for my video shot from the River Street Bridge. High winds? Of course.  Still, the regatta went on with the full course, despite talk Sunday of shortening it to avoid singles getting swamped in The Basin as they lined up to start.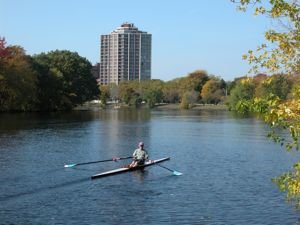 I've had a chance to return to the river in a Cambridge Boat Club single since the regatta, during some sparkling fall days.  Tom's wife, Tish, took a photo of me near the Hawthorn umpire station, close to our house.  My rowing is still tentative, but I'm feeling more and more at home in the boat and look forward to more lessons in the spring to improve my form.  One of these years I would love to compete in the Head of the Charles myself, in one of those categories for incredibly fit old guys who laugh at snow and stop at nothing.

Send to Kindle