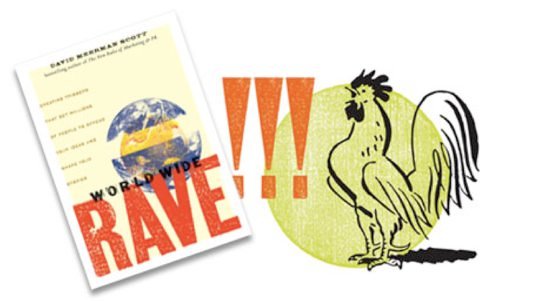 I've been wanting to write that headline ever since I read David Meerman Scott's bit about the power of negative headlines.
In World Wide Rave (click here for Kindle version) he writes, "I think what people are really saying when they vote with their mouse by clicking on negative headlines is that they crave authenticity."  They also like to be surprised and informed about things that matter.  I woke up this morning with the idea of writing a review of Scott's book, which I finished a few weeks ago on my Kindle.  But since I've got that headline up there, and it may be the reason you found this blog post, I feel I owe you a list of 10 reasons you should ignore this book. So here goes:
10. You are a boomer or a senior, and you could give a cracked hula hoop about what the youth market wants. For example, you yawn at insights such as this: "It doesn't matter if it's cancer, cleft palate, or other issues: Guilt may work for boomers and seniors, but the youth market is too narcissistic to care. Know your audience and be crystal clear and transparent." (Advice in the book from Matthew Zachary, founder of the I'm Too Young For This! Cancer Foundation)
9. You are not interested in people's problems. You just want to generate massive
attention and buzz on the internet about you and your product.
8. The message that you want to go viral is very complicated and full of nuance and existential inner contradictions.  The chance that you could ever distill it to something mindless like "1,000 songs in your pocket" is precisely zero.
7. You don't have time to write a really effective e-book and distribute it for free to generate unbelievable amounts of interest in what you have to offer, like Dr. Helaine Smith did.
6. You love control. You're not giving it up just to have your ideas rise to the status of a World Wide Rave.
5. You are an artist. You create art (or music) for its own sake, to answer the call of your very private muse.  No way are you interested in learning about your audience the way Bec Hollcraft did. MySpace? Are you kidding?
4. Even if you were interested in having people around the world talking about you, with online buzz driving buyers to your virtual doorstep, and seeing tons of fans visit your web site because they genuinely want to be there, you'd never simply jump in and have fun trying the ideas in a book by someone you've never heard of.  You are a serious person, which means you worry.  Your specialty is coming up with convincing excuses for inaction.
3. You have a degree from Harvard. You know enough. You aren't interested in courses from dumps like Stanford, conveniently accessible through Apple's iTunes U, which is described in the book.
2. You are a journalist with a salary for life guaranteed by a traditional newspaper. You don't need to consider new ways of making a living, like former TV reporter Kathy Boyd did at Neighborhood America.
1. You are an MFA with a manuscript that will change the world. All you have to do is wait for your literary agent to begin negotiating with Knopf Doubleday. You  don't need to consider self-publishing (ugh!) the way Lisa Genova, the author of Still Alice, a novel about a young woman's descent into dementia due to early-onset Alzheimers disease, did.
So there you have it. Ten reasons to ignore World Wide Rave by David Meerman Scott.
My only quibbles with the book are that Scott sometimes gets a tad smarmy and cute for my taste — "So, you've read this far in the book. Thanks! — and the Kindle price is more than $9.99.
The truth is that I gained more useful pointers to action from this book than I've found in any similar tome for a long time.  Bravo, Mr. Scott!

Send to Kindle