After 440 miles on the road, we arrived in Joliet, Illinois, at about 5 p.m. today. I'm becoming a connoisseur of the punchy, disoriented state that settles in after a long drive.  In the photo above, Darlene is unpacking stuff from Henry's trunk.  Within 20 minutes she has our room at the Comfort Inn all arranged, with Claire's popup tent on the king bed, food arrayed on the bureau next to the TV, and perishables in the hotel room fridge.  She's had a bath and is now reading her Kindle while Claire chomps on a chew. I've been doing I don't remember what on the iPad, Kindle, and laptop, flitting around happily from one digital daisy to the other. I've had ringing in my ears ever since I can remember, and it's louder tonight than usual. Doesn't bother me, though. We're hunkered down in another very pleasant hotel room for the night, and tomorrow we'll loop around Chicago for a relatively short hop to Dearborn, Michigan – 287 miles.
The miles roll by, the hours roll by. We listen to podcasts, and while I napped Darlene queued up an Audible book, Rogue Island, set in Providence, which I know well from living and working there as a journalist from 1977 till 1981. I think I remember the author, Bruce DeSilva, but I may be conflating him with another of my fellow scribes at The Providence Journal-Bulletin. When I woke up I listened for a while and then begged Darlene to turn the book off, which she did. I've never really acquired a taste for listening to books on tape, and this one clearly is not going to be the one that will dislodge me from my preference for reading books with my own eyes.
Driving cross country is mainly about the passage of time, and time plays weird tricks.  Henry's MyFord Touch screen froze up again, the second time it's gone down while I was moving among channels in Sirius satellite radio.  We had to pull off the highway for a restart, and I forgot to reset the clock for Daylight Savings Time.  So we thought we'd arrived at 4 p.m. instead of the actual time, 5 p.m.  That was helpful, actually. We would have felt more tired if we'd known what time it was.  Thanks, Henry!
I thought we'd have a chance to tour a Ford assembly plant in Dearborn on Monday, but so far I haven't received details from my contact at Ford, so maybe it will fall through. I hope not. I'd love to see the Michigan Assembly Plant in Wayne, where Henry rolled off the line on March 18th.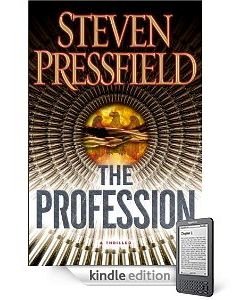 I'm reading an advance copy of Steven Pressfield's The Profession, another tremendous tale of military history – this one set in the future, in the year 2032, when everyone is fighting everyone else mainly using professional mercenary soldiers.  I love Steve's writing, because it has such substance. He researches the hell out of his topics, so you learn about the details of hand-to-hand combat at the Battle of Thermopylae in 480 B.C. in Gates of Fire and about futuristic battle vehicles two millennia later in the new book. In each tale. Steven Pressfield makes the honor and character of soldiers gritty, believable, and ultimately inspiring. The book is available for preorder on the Kindle, with release set for just three days from now.  Highly recommended.
Some part of me is still rolling down the road. Henry waits outside our window for another day of turning miles into minutes, and for a celebratory return to his native city.

Send to Kindle