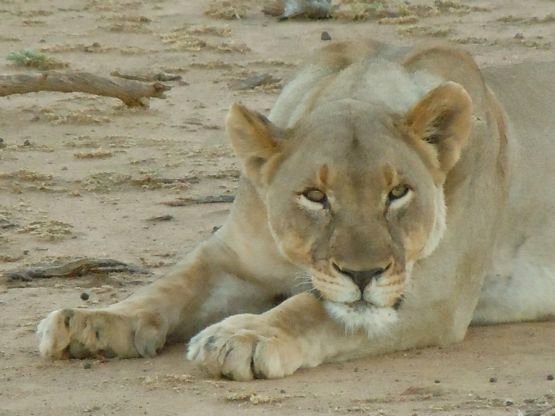 Yesterday evening's game drive at Tau Game Lodge brought us one step closer to life in the wild.
After great sightings of zebra, kudu, impala, water bucks, and rhino our intrepid guide, one of only four women among the 100 guides working in Madikwe Game Reserve in northern South Africa, found us three lions.  We'd been watching and photographing them for about 20 minutes, hoping they would wake up from their dozing at dusk and start prowling their territory.  The front one, pictured above, kept an eye on us, while the second one lolled on her back in a distinctly unroyal display, and the third slept on her side.
"Omigod, she farted!" Morah exclaimed from the driver's seat of the Toyota Land Cruiser.  I confess I hadn't heard the actual event, but I soon smelled it — an invisible, pungent cloud of aroma unlike anything I'd ever detected with my nose.  It wasn't an unpleasant aroma, nothing like what I remember from the years we dealt with cat litter for a white-haired cat we had in Wyoming.  No, this was an earthy, vibrant, powerful scent that came and went on the wind like a carnivorous locomotive.
We have now been on enough game drives in South Africa to need too hands to count them, but this is the first time I have smelled one of the animals.  It's a big increase in intimacy, I can assure you.  When you see your first elephant or lion or giraffe in the wild, it's of course exciting.  But you're using the same eyes you've used all your life, looking at photos of these animals in The National Geographic or on television.  And when you hear an elephant trumpet, same thing — it's not a sound you've never heard before.  So here comes the sense of smell, announcing with animal impact that we are actually in the presence of these amazing creatures.
The first thing Morah does when she climbs into the Land Cruiser before each game drive is to place her rifle on the dashboard.  She explained that as a guide she takes an oath to protect clients, but that there have been just a handful of animal killings necessay in the reserve's history.  But the gun is real, and so is the risk if any of us were to be crazy enough to hop out of our high seats in the back of the vehicle.
I'll have more photos and the story of a very small animal known to attack lions in my next post, based on this morning's game drive, which left at 5:30 a.m.  Today's evening drive begins in a half hour, after tea and coffee overlooking the waterhole at the game lodge.
Our own cabin has a porch looking out at the same scene, offering a parade of animals and birds moving from left to right.  The cabins have thatched roofs and striking design, plus the comforts of an overhead fan and air conditioning.  Everything smells great here, even when the lion does what comes naturally after a big meal.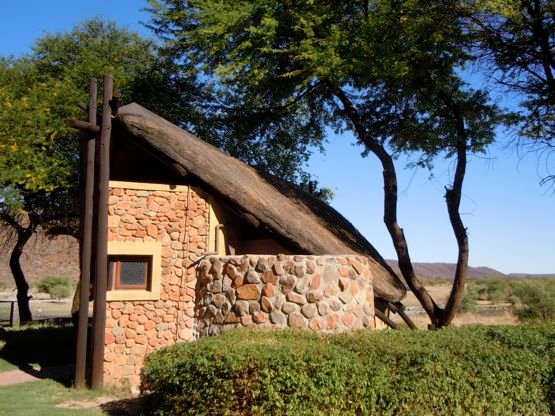 Send to Kindle