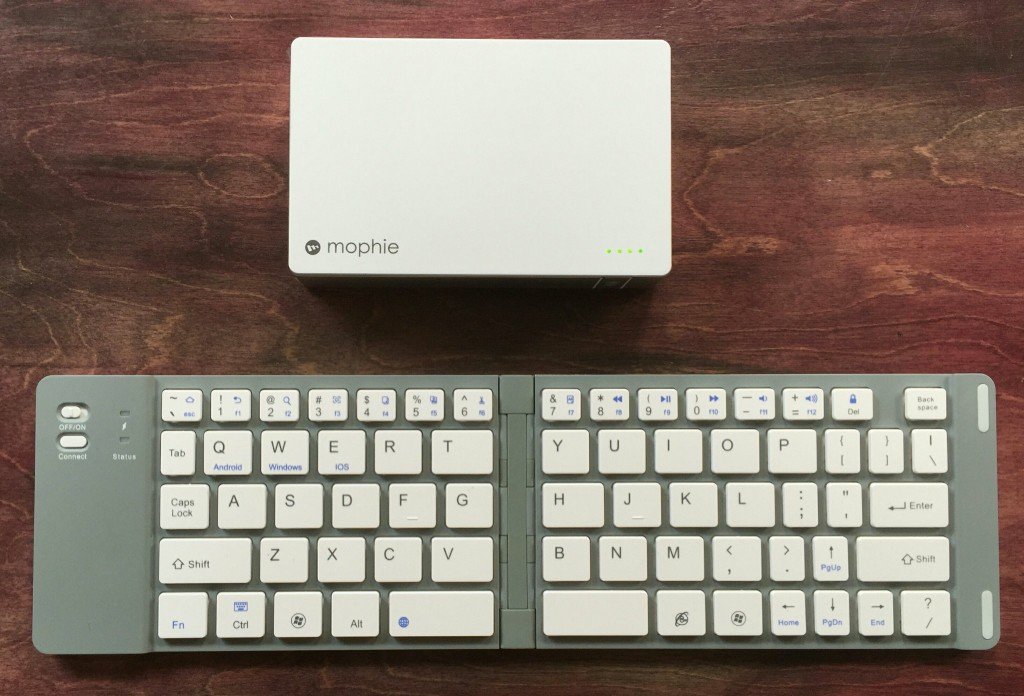 Nine days out from our departure to Ecuador, I am making final decisions on what gear to bring with me on the trip. The two items in this photo will probably make the cut. One is a big boy battery from mophie, the Powerstation XL, and it has enough juice to recharge your iPhone or other device numerous times. It is a hefty little brick, weighing more than a pound, and that might be a fatal flaw when I have my small bag full and it's weighs -in time. It costs $79.99 at Amazon.com.
The other item, which I'm sure will make it into final packing, is a foldable Power+ Bluetooth keyboard that costs just $29. I can pair it with my iPhone or with a Fire tablet. The keyboard action is pleasing to the fingertips, and the battery life seems long. You charge it with a micro USB cable, the same one that charges all of the Fire and Kindle devices.
I am drafting this post on my new Fire HD 10 tablet with Keyboard Case, which turns out to be a pretty decent way to create content, nevermind watching TV shows and movies on the wide little screen. One reason I like traveling with the $50 Fire is that it minimizes the theft or loss exposure, but the Fire HD 10 and keyboard case together cost a modest $330, and the Silk browser on the Fire seems to play nicely with WordPress. The duo weighs just over 1.5 pounds. That's half the weight of the Dell Mini 10v I toted to Africa four years ago.
I love this part of a long trip, the deciding what gear to take. Darlene spends her preparation making sensible clothing choices, but I obsess on the gadgets. Deb will bring a real camera, while we will depend on iPhones. Imagine what Charles Darwin would have been able to do in 180 years ago aboard the Beagle if he'd had WiFi and some gadgets!

Send to Kindle